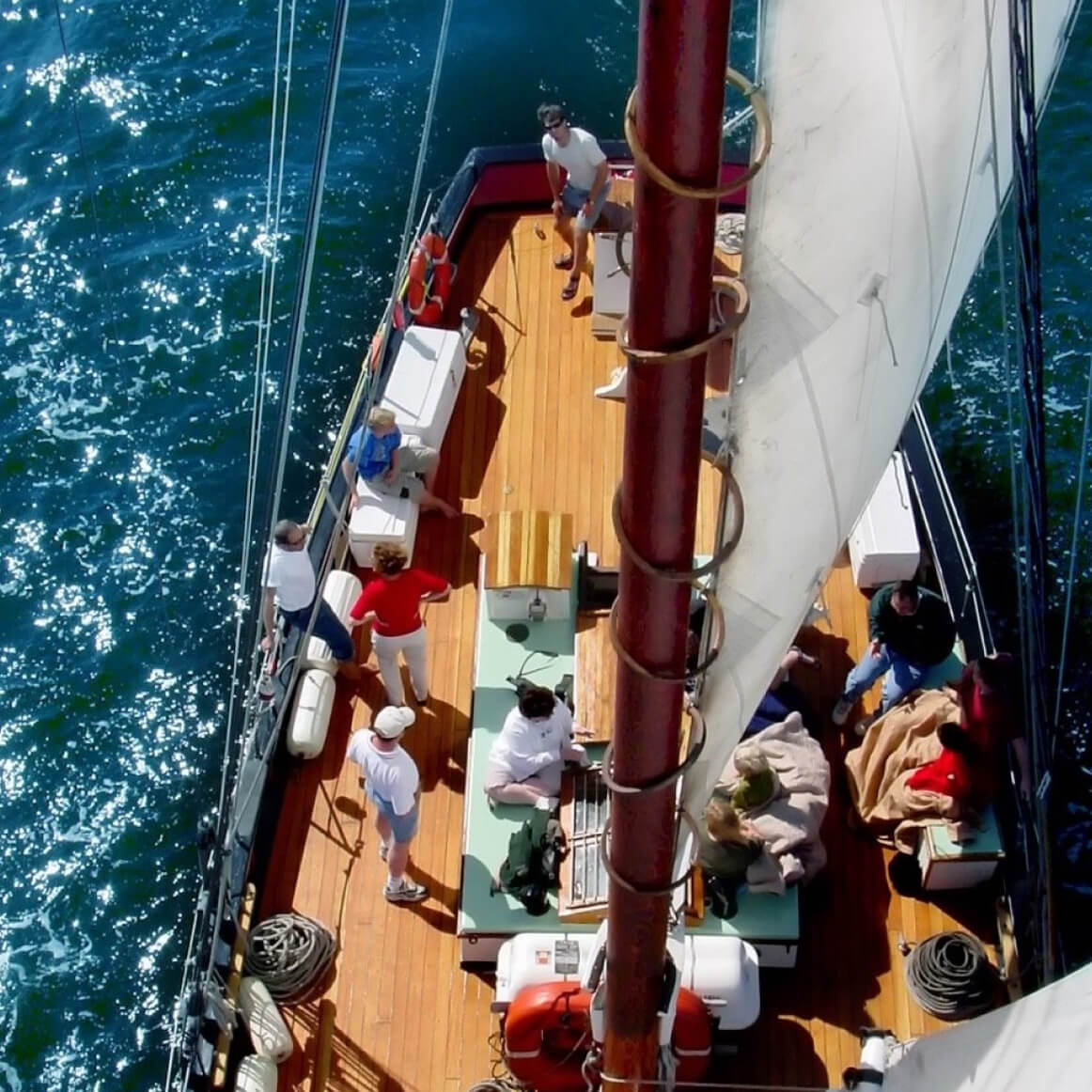 For the Perfect Destination Wedding
or Just the Best Party Ever!
Contact our Private Charter consultant today at (207) 593-2023 or email us for a complimentary proposal.
All size groups are welcome for your private sailing charter, from a cruise for 1 up to 49 on a single ship. Our majestic wooden schooners are available for private charters with each trip fully customized to your specifications, including beverages and food. Since the schooners are licensed premises for full liquor bars in both Maine and Florida you can choose from a full array of drinks. We can arrange music for your special day – whether its a DJ, folk singer or steel drum percussionist. Popular sailing charters are morning or afternoon sails and, of course, a spectacular sunset cruise. In Key West, full day charters are popular for private snorkel or eco tour trips.
Whether Camden in summer or anytime in Key West, your destination wedding will be beautiful on the deck of a two-masted schooner. Or make us part of your wedding plans – rehearsal dinner, bridesmaid luncheon or the wedding reception itself.
Boat charters are great for birthday parties, camps and family get-togethers alike. Corporate events become favorite events when combined with Schooner Appledore's sailing charters. Whether it's team building activities, impressing a client, a unique office Christmas party or a conference sunset sail, we take care of the details and customize the no-worry event to suit your unique needs.
Our Charters Coordinator will work with you on designing your own unique charter package to make your event stress-free and amazing.

Our Private Charter Specialist Will Help Create the Perfect Event for You!
Camden
The Ultimate Downeast Occasion
From June to October, book your Camden private charter on the historic Appledore II. This roomy schooner accommodates up to 49 passengers. Sure to impress with her massive spars and wide beams, the Appledore II is the perfect way to celebrate your special event. Picture your Camden, Maine destination wedding on the deck of the Appledore II. Exchange vows with the amazing New England sunset, sky glowing pink, as the backdrop. Corporate events are spectacular set against Penobscot Bay's picturesque shoreline.
With a full liquor license, choose from a wide selection of cocktails, champagne, wine and beers. Food service can be arranged. Let your imagine roam – from simple steaming hot bowls of New England chowder to fancy hors d'oeuvres to buffet style dinners and everything in between.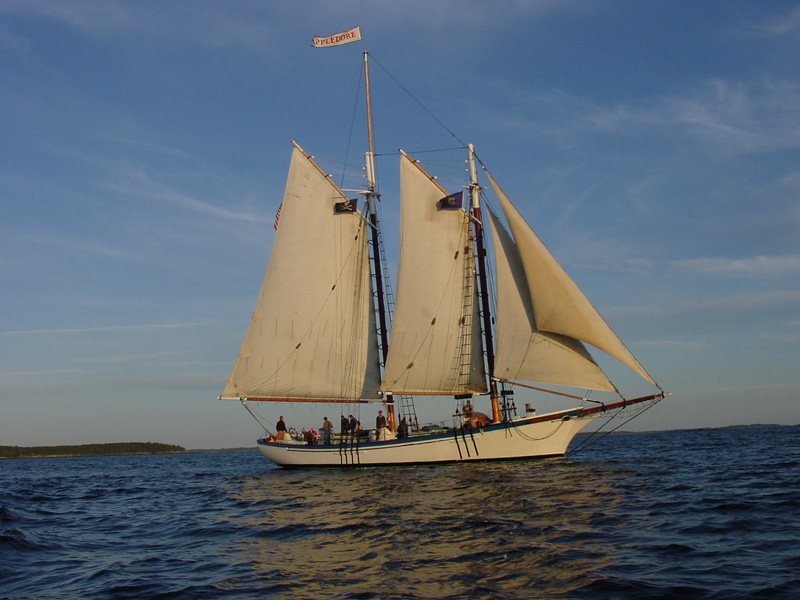 Key West
Amazing Destination Weddings and More
In Key West, we offer more options for your private charter. Year round, the beautiful Appledore Star, a wooden bugeye schooner, is available for private events of up to 22 passengers. From November to May, the Appledore II, a majestic wooden windjammer is available for private events of up to 49 passengers. If you have a larger group for a Key West event taking place from November to May, consider chartering both the Appledore II and the Appledore Star for a combined capacity of 71 passengers. Our own Key West catering kitchen turns your dreams into reality, with a wide array of menus available to choose from. Both schooners are fully licensed for liquor.
Key West weddings are already beautiful set in Florida's tropical paradise. Make it a day to remember when you exchange vows from the deck of a historic schooner while sailing into a Key West sunset. Key West boat charters make a special occasion such as a milestone birthday or wedding anniversary spectacular. Eco tour or snorkel trips are great icebreakers for family reunions. Sunset or day sails are popular – perfect for family members of all ages. Impress clients with a formal cocktail party sunset sail, corporate team-building on an afternoon sail or charter a jolly Christmas party for your employees.
Day Sail Tour Private Charter
Sunset Sail Tour Private Charter
Ask us about your personalized choices to create cherished memories that last a lifetime. Whether in Camden or Key West, contact our Charters Coordinator to arrange a private charter at (207) 597-2023 or email us.